I have totally lost the inclination to do any stitching, all I seem to want to do at the moment is knit. Which wouldn't be a problem except that I really must get the pre-stitching done for four classes that I am taking later on this year and also finish the final round of the UFO Round Robin that I am participating in. I am sure that part of the reason why I don't fancy stitching is the deadlines and the fact that I currently feel that even if I stitched for every second possible then I would still not make enough progress to achieve the deadlines. So in order to get past this I have decided to set aside most of this weekend to stitching. The only other thing on the agenda is taking my Mother and Niece to a fund raiser tomorrow for a guinea pig and rabbit rescue centre.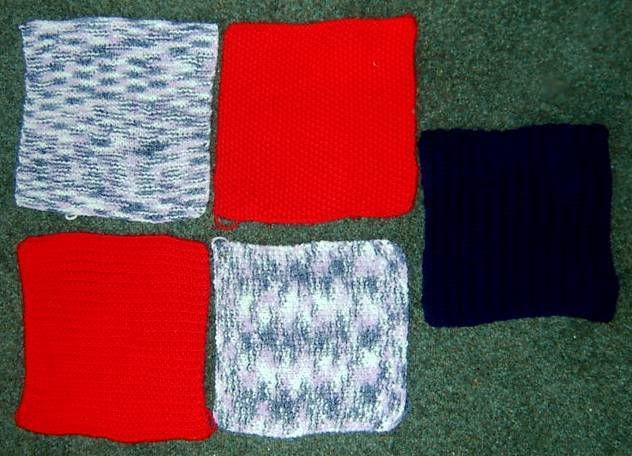 I have been making progress on reducing my knitting stash and so far have completed 5 squares that will be donated to
The Ghana Project.
I also have 3 other squares almost completed and 3 scarves on the go (why have only one WIP when you can have half a dozen?). I have decided that once I have reduced my stash by at least 12 balls (or skiens) of yarn I will reward myself by starting a new pair of socks. So far I have turn two and a bit balls into squares and once the scarves are finished that will take the total number of balls used to 6. This is partly due to the fact that one of the balls of yarn that I am trying to use up is a masive 500 grams of DK yarn.