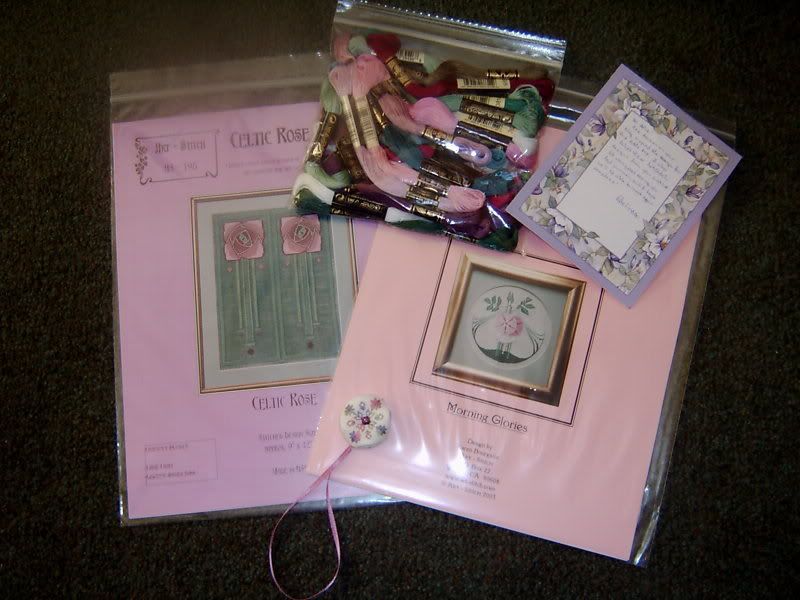 This morning I recieved in the post a most wonderful Pay It Forward gift from
Belinda
, she stitched the most delightful scissor fob for me and also sent a couple of Art Stitch charts with the DMC threads to stitch them. I am sure that I have just the right fabric to stitch them on and can not wait to make a start. It also reminded me that I owe
Natty
a PIF gift, and I have finally made a decision on what to make for her so should make a start on it this weekend. Natty is the only person who has requested a PIF gift from me so if anyone else would like a little stitched gift please leave me a comment or email me. If no one asks for one by the time I have finished Natty's gift I shall randomly select who will recieve the other four gifts that I need to make.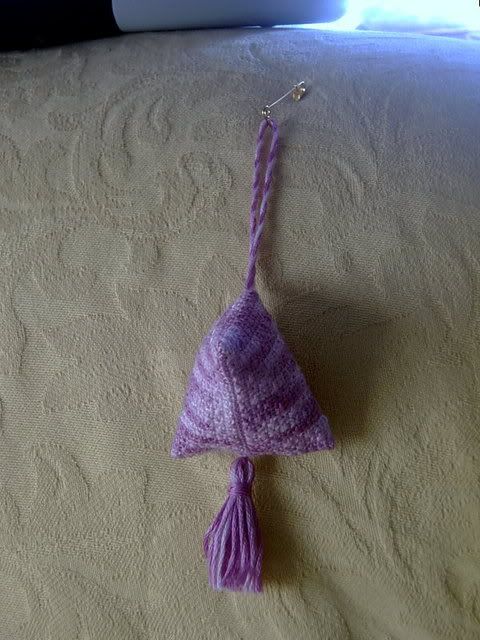 I have not been doing much stitching recently but have decided that in order to get the bug back I will for the moment at least concentrate on stitching small things so that I can start (and fingers crossed finish) several projects. The first of these was a tiny humbug that I stitched using a hand-dyed thread and tiny piece of fabric from my stash so I am counting it as a 50 Projects Challenge finish. I used the instructions from
Nicki's Blog
which I found really easy to follow.
Last weekend I had a major tidy up of my craft room and now have one double and two single wardrobes full of all my crafting stash. I have organised everything by type of craft so that it should be easier to find things and therefore there should be less excuses for buying stash. In the tidy up I found several things that I had forgotten that I had and am now full of plans for what to do with all the odds and ends of stuff that I have brought over the years just because they looked pretty.
The reason for the tidy up was the arrival of two new bunnies in my life who are house rabbits and currently live in my craft room, hence the need to put all my stash into boxes inside rabbit proof wardrobes. This is Basil who is a rather handsome blonde lion head, he is very charming but a little short on brain cells. His girlfriend is a grey smooth haired camera shy rabbit who I will post a photo of just as soon as she will let me take one.