A few days off work with nothing to do but eat, sleep and relax with family and friends and not only I am I feeling fantastic but I have managed to finish several small projects. I had a wonderful Christmas at my sister's house being well looked after by my sister & her husband and being bossed around by my 2 year old niece.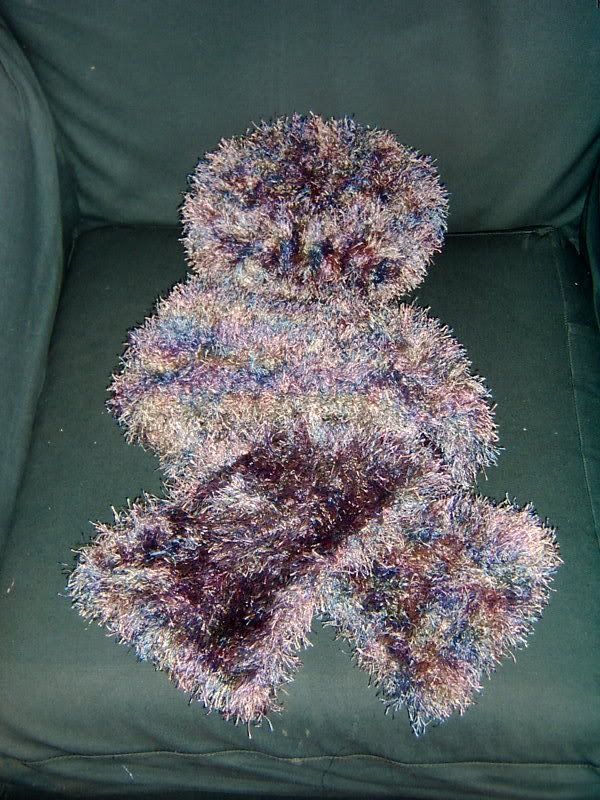 The first projects that I managed to finish are a very fuzzy scarf and hat knitted in Cosmic yarn from a free pattern that came with the yarn. I am off to spend New Year with very good friends who are currently residing in Rega and I thought I needed something to keep me warm. It will be great to catch up with my friends - I just hope that I do not catch a cold while out there.
The second is a lacy ribbed scarf knitted from a pattern booklet called Scarves of Hope available from FiddlestitcksKnitting.com with country silk yarn also purchased from Fiddlesticks. The yarn was a delight to knit with and I shall definitely be buying some more once I come off the stash wagon.
I also finished a bead bauble and a knitted baby jacket but both are gifts for friends so no photographs for the moment.
This all means that I have made a dent in my knitting stash and am well on the way to my aim of reducing my knitting stash pile to 5 projects. My stash count was at 16 projects but with these recent finishes I am now down to 12 projects. Only 6 more finishes before I can start planning for a new purchase.