A picture is worth a thousand words so I have decided to let my holiday photographs do the majority of the talking for me otherwise this post would take days to read and put anyone brave enough to try and read it to sleep. New Zealand is an amazing country full of spectacular scenery and wonderful people (if you discount Christchurch taxi drivers).

I arrived a little dazed by the 30 odd hours of travelling and the 13 hours time difference and was made most welcome by Nicola and her family, staying with them for a few days allowed me to recover from the journey in comfort and to get some stitching done. From Christcurch I headed off on a swift two week tour of the South Island before heading up to Wellington for a few days.


First stop was Kaikoaura where I went whale watching and was delighted to see three sperm whales and a pod of dusky dolphins. Since the whales only come up to the surface to rest and breath for a few minutes before diving they are not very active but at least that means you can take photos of them. The dolphins on the other hand did not stay still for even a second so were impossible to photo (well at least with my limited skills). So I gave up trying and just enjoyed their antics
Next stop was in Nelson and from there I went into the Abel Tasman National Park, yet more spectacular scenery and wonderful wildlife.
The above photo is of Split Apple Rock Bay and the one below is of a New Zealand fur seals.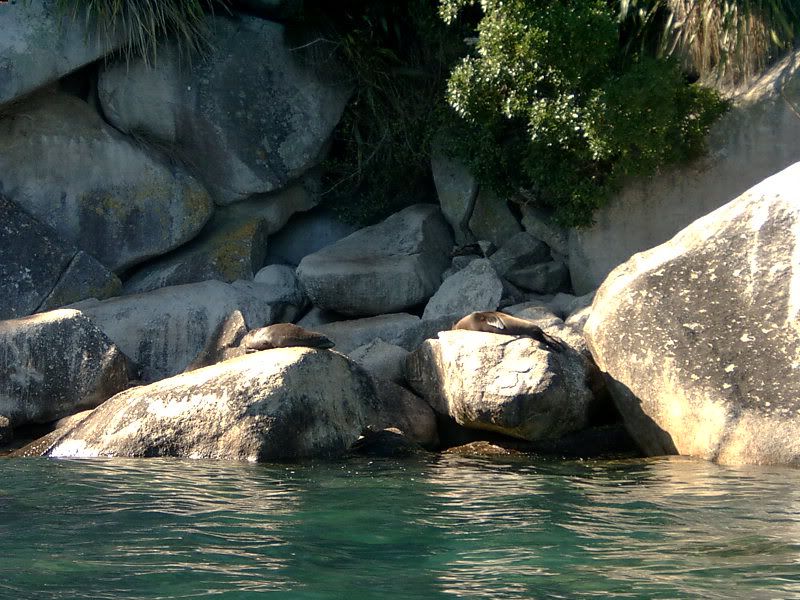 From there I travelled down the west coast, with plenty of stops to enjoy the scenery and sample the local food & drink. The weather was a little wild at times but that just added to the drama.
Luckily by the time I arrived at Franz Josef the weather had cleared up and I was able to take a helicopter ride over the glacier before spending a day hiking on the glacier.
On leaving the glacier I headed towards Queenstown and then on to Dunedin, with plenty more stops along the way to admire the scenery and look at the wildlife.
On arrival in Dunedin it started raining again making the place look even more Scottish.
From Dunedin I travelled into the Catlins, yet more stunning scenery and close encounters with wildlife. Including getting almost too close to a sea lion who was hiding out in the sand dunes.
It was then back to Christchurch via Milford Sound and Queenstown. The day spent at Milford Sound it rained and rained and rained but that meant that the waterfalls were spectacular.
I was sad to say good-bye to the South Island and head up to Wellington. But it was lovely to spend several nights in the same bed and to spend time with my friends Alan & Christie. Christie was an excellent tour guide taking me to all the tourist spots in and around Wellington.
I also managed to meet up with Cathy for lunch and she introduced me to a wonderful cross stitching store where my credit card was a little stretched but more about that when the purchases arrive (I had to have them shipped home due to lack of space in the suitcase).
My last full day was spent in Martinborough sampling New Zealand wine (some of which found its way into my suitcase).
All in all it was an amazing holiday, even with the jet lag. It has taken me nearly a week to recover from the journey home and to get over the shock of going back to work.