Well I have finally got around to cataloging all my stash (well I think this is all of it but there may be some more hiding somewhere). I have only listed those projects that I have all of the supplies for. I will try and reduce these lists before worrying about the partially kitted projects.
Cross-stitching and other counted stitching projects
Beth Russell - Orange Border (80% complete)
DMC - Sweet Pea Fairy (5% complete)
L&L - Angel of Spring (80% complete)
TW - Above the Clouds (30% complete)
TW - Noah's Ark (15% complete)
TW - Peacock Tapestry (5% complete)
Barbara Thompson Designs - Skyscape
Barbara Thompson Desings - Around the World in Cross Stitch
Bent Creek - Swirly Sampler
Butternut Road - Earthdancer
Coleshill Collection - Sunflower
Derwentwater Designs - Rose Window
Derwentwater Designs - Rose Bouquet
Derwentwater Designs - Macintosh coaster 1a
Derwentwater Designs - Macintosh coaster 1b
Dimensions - Power of the Serengeti
Dimensions - Toy Shelf Birth Record
Dimples Designs - Wee Beasties Part 5
Dimples Designs - Wee Beasties Part 6
Dinky-Dyes Designs - Celtic Heart
Dinky-Dyes Designs - Celtic Knot Diamond
DMC - Laburnum Fairy
Just Nan - Amethyst Snowflake
Just Nan - Celeste
Just Nan - Christmas Jewel
Just Nan - Ice Blossom
Just Nan - Grace
Just Nan - Serena
L&L - Angel of Autumn
L&L - Angel of Christmas
L&L - Angelica
L&L - Heavenly Gifts
L*K - Bless the Baby
L*K - Wanted! Santa 02
Lanarte - Orchid
Maria Von Scharrenburg - Night
M-Designs - A
M-Designs - A + D + Heart
M-Designs - E + J + Heart
Mirabilia - Royal Holiday
Mirabila - The Fairy Moon
Moira Blackburn -Growing Like A Tree
Sheperds Bush - Cherry Heart
The Silver Lining - Royal Affair
The Silver Lining - Joy
The Silver Lining - Hope
The Silver Lining - Honor
The Silver Lining - Grace
Thea Groverneur - Jays
Thea Groverneur - Pheony Rose
Thea Groverneur - Rhapsody in Blue
Thea Groverneur - Rose
TW - Celtic Cross
TW - Futurecast
TW - Knotwork Bookmark
TW - Paisley Corner
TW - Stretch
TW - Tempest
The Victoria Sampler - Beyond Cross Stitch Level Six No ?
The Drawn Thread - Toccata Number One

Knitting and Crochet Projects
Black Dune Scarf
Blue Fuzzy Scarf
Baby Jacket (Penny & John)
Haze shawl
Scarf of Hope 1
Scarf of Hope 2
Collinette Jumper
Black & White Jumper
Black sleeveless jumper
Toddler Poncho
Socks 1
Socks 2
Ripple Scarf
Hat
Lacy Lattice Stole
63 square afghan
Beading Projects

Beaded Box (10% complete)
Romanov Bauble
Fandango Braclet
Fuchsia Scissor Tassel
Aurora Stars (x3)
Toulouse Chocker Necklace
Georgian Bauble
Turkish Rope Tassel
Persian Tassel
Art Deco Bauble
Starry Night Bauble
Mayur Necklace
So there it is I have 60 stitching projects, 16 knitting & crochet projects and 12 beading projects. Far more than I can hope to finish in a reasonable timespan maybe more than I can finish in my lifetime. Unless I win the lottery and can retire very very early. So I have decided that I am going on to the stash Wagon at least for a while - no more significant expenditure on stash for me till I have made siginificant progress towards my ultimate goal of having a stash list consisting of no more than 5 projects in each category. Obviously this will take many many years to achieve so the goal for 2006 is to reduce each stash list by at least 5 projects. I have 3 planned cross stitching purchases already for next year so will have to finish at least 8 cross stitching projects.
Since the vast majority of my stash is stitching I aim to concentrate on reducing this list first. So the plan for 2006 is to work on one main large cross stitching project at a time completing each project before starting a new one. I will also work on a second project selected from any of my lists to provide me with a travel project or a quicker finish to prevent me from becoming bored. I will only be allowed to purchase a new project when I have finished at least 5 projects. I have not decided which projects I shall work on as I don't want to restrict myself I shall just pick up whatever I fancy working on next.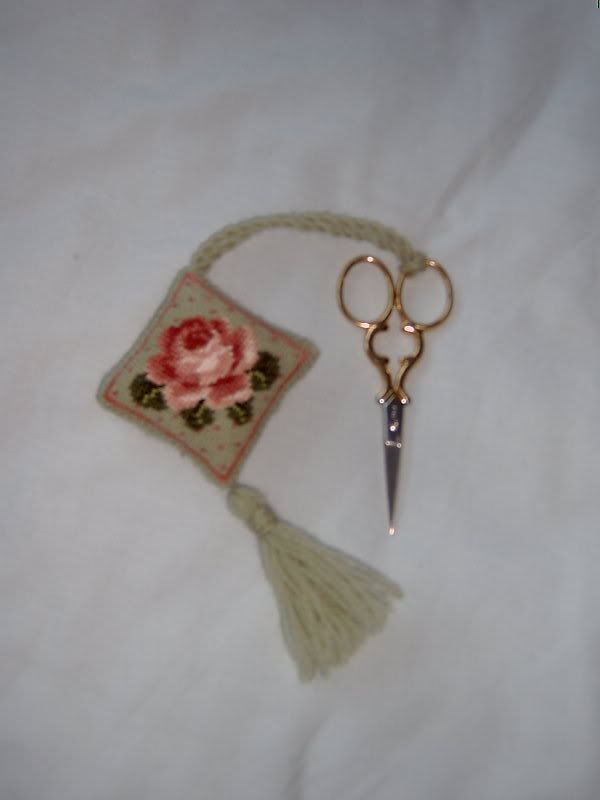 I would love to finish 2006 with less than 50 cross stitching projects but this may well be beyond me so I am not going to beat myself up if I do not achieve this after all these are supposed to be hobbies and hobbies are supposed to be fun. In order to get a head start I am trying to finish a few projects before the end of 2005. In fact I finished one last night, admittedly a very small finish but none the less a finish.
It is called Damask Rose and is designed by Sue Hawkins.